Seafarers Hospital Society has been looking after seafarers' health for more than 200 years, we have been a force for change in seafarer health throughout our history and we continue to run relevant and innovative health projects and programmes. Here are details of some of the current projects.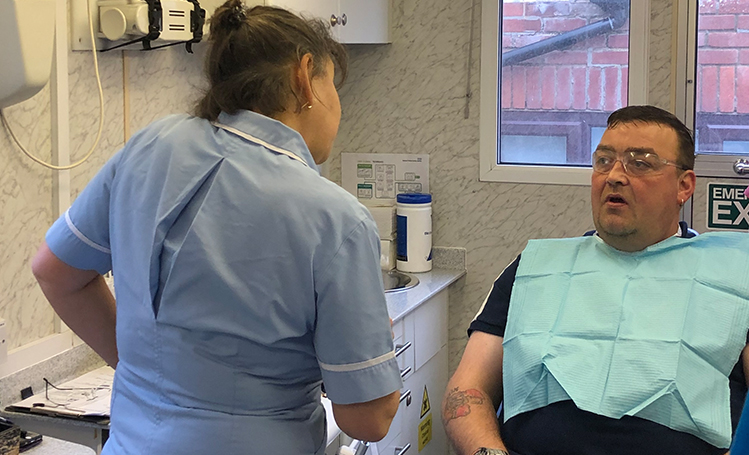 Seafit Health Events
The Seafit Programme has successfully conducted 1180 NHS heath checks and more than 500 dental checks for fishermen and their immediate families by taking health services to ports and quaysides. However, there are still many fishermen who are unable to access dental and health services. 
Working with the Dentaid charity and local dentists, we are taking a mobile health and dental tour to fishing ports in 4-5 locations: Portsmouth and the Isle of Wight, Scarbourgh/Whitby, Ullapool and Jersey. 
SeaFit regularly receives requests as to how to find and access dental treatment. Nationally there is limited provision of NHS dentistry, as highlighted in the recent Healthwatch Portsmouth report and the British Dental Association recording that 9/10 NHS dental practices are unable to offer appointments to new adult patients, in the most extensive survey of patient access ever, as thousands of NHS dentists have left the service since lockdown.  
A significant barrier when referring into NHS dental services is the length of time it can take to get an appointment. Therefore, immediate and on-going dental needs are not taken care of, leading to worsening oral and mental health, and higher costs. 
At the health events we fund a mobile dental unit, a fully functional dental surgery, that can provide urgent and emergency dental care to people who do not have their own dentist. We aim to spend 1 to 2 days in each port according to the population of those communities, and where we know there will be a high demand at these locations. 
Mobile Dental Unit provision:
Dental examinations

Oral cancer screening

Oral health education

Treatment of any immediate dental problems including:

Simple tooth extraction

Fillings

Hand scale and polish

Referrals through NHS or private routes if more complex oral surgery is required
In addition to the quayside dental checks and urgent treatment we will provide home education packs with information on maintaining good oral health, tooth brushing, toothbrushes and toothpaste for the family.
We are able to deliver this important service to seafarers thanks to funding and support from Trinity House.
Brighter Smiles — our work in 2022
4,452
Cornish children engaged in oral health programme
118
Children participating in toothbrushing clubs daily
252
Number of oral health education packs funded